A guide to the science of how your body metabolizes cannabinoids such as THC and CBD.
Cannabinoids are a class of molecules produced by the cannabis plant, several of which are psychoactive or have medicinal properties. But as soon as you ingest cannabinoids, your body starts modifying them and making them less active (or in some cases, more active) in an attempt to remove them from your body. 
The metabolism of cannabinoids is complex compared to most drugs. It can be easy to get lost in the alphabet soup of metabolites, so I created this guide to help. I focus on the two main cannabinoids, which are the most well studied both from a recreational and medicinal point of view:
THC: Tetrahydrocannabinol
CBD: Cannabidiol
Basics of Drug Metabolism
Back in the day when we were hunter-gatherers, we were eating all kinds of random shit. If a plant looked tasty, that was your meal for the day. But guess what? Many plants can have toxins in them. The cannabis plant most likely started creating cannabinoids in order to avoid being consumed. Oh, the irony.
In order to not be killed off by our breakfasts, our bodies have the ability to detoxify and eliminate plant toxins. Detoxification is done by a few groups of enzymes which are mostly in our liver and our GI tract.
We are no longer eating random, potentially poisonous plants, but we are still consuming the drugs that come from them. Because these enzymes were discovered for their ability to metabolize drugs, they were called drug-metabolizing enzymes.
It is a misnomer that your body is "breaking down" a drug such as THC. It is actually more likely that your body is adding more molecules to it. The larger the drug becomes, the easier it is for your body to remove it.
There are two important ways to metabolize drugs (called Phase I and Phase II):
Phase I: Generally involves adding an oxygen molecule to the drug. The group of enzymes that does this is the CYPs (cytochrome P450s).
Phase II: Links another larger molecule to the drug. Most often, this is a sugar-like molecule called a glucuronide. The group of enzymes that does this is the UGTs (uridine-diphosphate gluruconosyltransferases).
Activation of Cannabinoids
In the cannabis plant, cannabinoids are mostly in the pre-active acid form (i.e. they have a carboxylic acid group attached). The abbreviation of the acid form will have an "A", so for example, the acid form of THC is designated THC-A (the chemical name: tetrahydrocannabinolic acid). Although THC-A may have anti-inflammatory activity, it is not psychoactive (or in other words, it will not get you high).

In order for THC-A to become active, it must be decarboxylated (i.e. the carboxylic acid group shown in red must be removed). However, your drug-metabolizing enzymes will not do this. This is why eating raw, unprocessed cannabis will not get you high!
You are responsible for your own decarboxylation, which is typically done by heating. When you burn or vaporize marijuana, it gets hot enough to decarboxylate the THC-A. Recipes for cannabis edibles will also heat the THC-A enough to decarboxylate it.
However, if you heat THC too much, it can degrade and if you don't heat it enough, the decarboxylation process will be incomplete. In either case, you are not getting the full dose of actived THC!
A similar activation process occurs for CBD. Although it is not highly psychoactive, CBD is partially responsible for the entourage effect. The entourage effect is where CBD changes how THC interacts with your body to produce a different effect than if THC were given alone.
Metabolism of Cannabinoids
So you've activated your THC-A to THC and consumed it….what happens next? Every time your heart pumps, it sends a certain fraction of your blood to your liver (at rest, it's about 25%). The cannabinoids in this fraction of your blood are able to be metabolized by hepatocytes (liver cells) that contain most of your drug-metabolizing enzymes. The new molecules formed from this process are called metabolites.
Metabolism of cannabinoids generally happens in several sequential steps. There are actually many different pathways that cannabinoid metabolism can follow, but I will only describe the main one:
Phase I: Oxidation

One of the most common ways the human body metabolizes cannabinoids is for a CYP enzyme to hydroxylate (add an oxygen and hydrogen molecule to) a specific part of the cannabinoid. This results in a hydroxy (OH) form of the cannabinoid. Using THC as an example, it is metabolized to 11-OH-THC by the CYP2C9 enzyme.
 Hydroxy metabolites of THC and CBD are both active metabolites, meaning they retain their psychoactive or medicinal properties. In fact, 11-OH-THC is even more active than THC.  Although this is rare, it is not unique. For example, there is a metabolite of morphine that has even more potent pain-relieving properties than morphine itself.
In the next step, the same CYP2C9 enzyme causes further oxidation, leading to a carboxylic acid form, THC-COOH. This carboxyl group causes the molecule to lose activity since it can no longer bind tightly to cannabinoid receptors. Therefore,  THC-COOH is an inactive metabolite.
The enzymes which perform this metabolism have genetic variants. Some people are genetically predisposed to metabolize THC and CBD faster or slower, which has implications for how long you stay high and also how likely you are to fail a drug test.
Phase II: Glucuronidation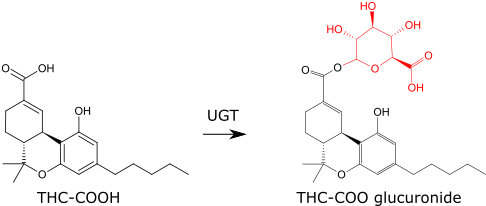 With the Phase I oxidation process complete, there is now an oxygen molecule where UGT enzymes can easily connect a glucuronide molecule. The glucuronide is like a tag that marks a molecule to be excreted.
The THC-COO-glucuronide molecule can be easily excreted by your body into the urine or bile. Incidentally, it is also the most important molecule measured in urine for detecting cannabis use
Quick Guide to Activation and Metabolism
For those of you who just want a quick guide and not the full explanation, the cheat sheet is below. This guide shows the 4 main steps to the activation and metabolism of THC and CBD: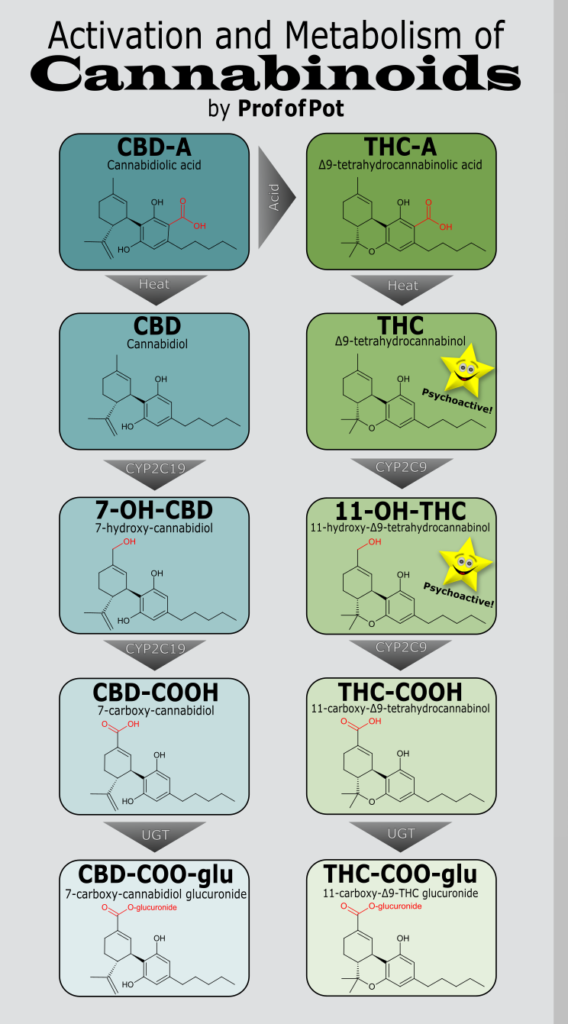 Last modified: April 26, 2017