Many people think of cannabis as a way to alleviate pain. After my friend was in a bike accident, she took cannabis edibles to escape the chronic pain that had developed in her back. Instead, she found that it made the pain unbearable. I dig into the cannabinoid research to find out why.
A case study in cannabis overdose worsening pain
A few months ago, I was getting ready to go out when I got a call from a friend. She sounded very spacey, as if she were high. She told me that she was calling from an ambulance. She had been hit by a car while riding her bike.
I rushed to the emergency room to meet her and after waiting for what felt like forever, I was allowed to go to her bedside. The doctor was just finishing up and said that she had a concussion, but that nothing was broken. She was released and I drove her home.
She remembered nothing of the accident. The police report suggested that she was hit by the car on her left side and was thrown onto the roof. She was left with significant pain, vertigo, and nausea.
"It would feel like I was being stabbed between my left scapula and spine. The pain radiated up and down from that spot. I also had a more constant dull pain in my lower back and right neck.
Unfortunately, she could find little relief from the pain.
"I was taking ibuprofen and tylenol around the clock. I tried therapeutic massage, acupuncture and a chiropractor. I didn't want to take Vicodin because it makes me dizzy and I was already super nauseous and dizzy from the concussion. The pain lasted for months."
Finally, at the recommendation of her friends (and even her acupuncturist!) she tried marijuana edibles. Her friends brought her cannabis extract-infused gummy bears. She started cautiously with a low dose and worked up to 5 gummies per day, a total dose of 50 mg THC.
However, she felt little effect from the gummies and decided to to switch products. This led to one of the most terrible experiences of her life.  Her friend brought her a cannabis chocolate bar, from which she ingested one square of chocolate, a dose which contained 45 mg of THC.
"I thought I was taking less of a dose than the gummies. I wanted it to have some effect since I was feeling so dysfunctional. After an hour, I started feeling the effects, but then the shift to being not fun was very quick. I lay down and basically it felt like each of my vertebrae were grinding on each other as waves of searing pain shot up and down my spine. It was really excruciating. I felt like I was going to die."
Paradoxically, the pain had worsened with her ingestion of cannabis. This is how she described the pain on a scale of 1 to 10 before and after ingesting the cannabis-laced chocolate:
"My pain was at a 7 or 8. After, the pain was some of the worst I have felt. It was a 10."
My friend had obviously overdosed. This is an important lesson that different cannabis edibles can not only have varying potency, but may also be absorbed differently – this will be the topic of a future post.
But how can we explain this experience? Cannabis is used by many to treat pain, so how can it be that it can also increase pain? At first it seemed a bit incredible, so I did a quick Google search. Sure enough, there are message boards where people have reported similar effects.
Before I get into the scientific evidence for marijuana increasing pain, I need to explain some background information.
A primer on pain
Pain typically starts with either potential or actual tissue damage. There are specific neurons called C-fibers that sense this damage and send a signal from the damaged tissue to the spinal cord.
Within the spinal cord, the C-fibers connect with second-order neurons that relay the signal up the spinal cord to the brain. Where C-fibers and second-order neurons intersect are interneurons that can modulate this signal. Specifically, inhibitory interneurons can decrease the strength of the signal sent to the brain. The brain then interprets the signal and produces the negative emotional state we know as pain.
After an initial pain signal is sent, sensitization starts to occur. This makes the site of tissue damage even more sensitive to pain. Even the undamaged area around the tissue damage becomes more sensitive. This is called hyperalgesia. Think of someone slapping you where you have a sunburn. Maybe it would have hurt a little anyways, but with the sunburn it is majorly painful.
Often, ongoing sensitization processes can cause more problems than the initial pain itself. Acute pain can turn into long-lasting chronic pain. Pain signaling is a dynamic process which can be modulated at the level of the periphery, the spinal cord, and the brain.  There are many different chemical mediators involved and cannabinoids are just one class. To get an idea, see below for an overview. It literally hurts my brain.
Why the effects of cannabis on pain are difficult unravel
Pain signaling is already complicated, but cannabinoid pharmacology is complex in every way possible. Cannabis contains dozens of cannabinoids, which are a mix of agonists and partial agonists at cannabinoid receptors. The ratio of these is different depending on the cannabis strain and also the route of cannabis dosing. Furthermore, there are active metabolites, levels of which also change depending on dosing route. On top of that, cannabinoids have effects which are not mediated by either the cannabinoid CB1 or CB2 receptors.
It is likely that cannabinoids affect pain processing at all levels (peripheral, spinal, and brain), but through different mechanisms. For example:
Peripheral:

Activation of CB2 receptors on immune cells reduces release of proinflammatory molecules 

Spinal:

Binding to glycine receptors in the spinal cord potentiates the pain-blocking effects of glycine

Brain:

Activation of CB1 receptors in the brain modulates emotional processing of pain signals
Evidence for cannabis exacerbating pain
Without a doubt, the complexity of pain signaling and cannabinoids make it a difficult topic to study. However, there has been progress in understanding these mechanisms and how marijuana may increase pain. I am going to highlight two key studies:
Study #1: The relationship between dose and pain relief is an "inverted U"
There are pain studies that can be done directly in healthy humans instead of patients who already have existing pain. These are called Human Experimental Models of Pain. The abbreviation for this is HEMP. I swear I'm not making this shit up.
The HEMP used in the first study is the intradermal capsaicin model. You know when you bite into a chili pepper and your mouth is on fire? That's because of a molecule in the chili called capsaicin. Imagine purifying this molecule and injected it directly into your skin. That's the intradermal capsaicin model.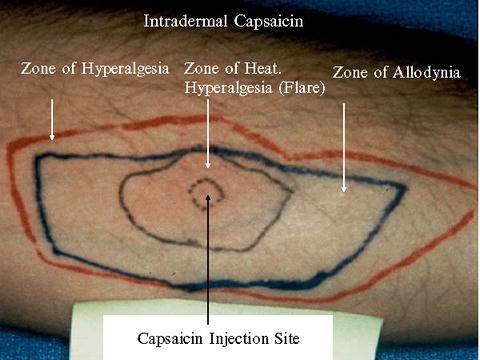 Capsaicin causes an acute pain at the injection site, but also activates the sensitization mechanisms to cause hyperalgesia in surrounding skin areas. This makes it a good model to study the pain associated with these processes.
The first study used the capsaicin model to look at analgesia from marijuana cigarettes. Subjects received marijuana cigarettes with 0% (placebo), 2% , 4%, or 8% THC. Capsaicin was injected into the forearm skin 45 min after smoking the marijuana cigarettes and subject's pain was assessed. Here are the results:
The

low THC dose

 did not affect pain scores. The THC dose was probably too low to be active.

The

medium THC dose

 lowered pain scores, demonstrating the analgesic effects of cannabis.

The

high THC dose  significantly increased

 pain scores. What the fuck!?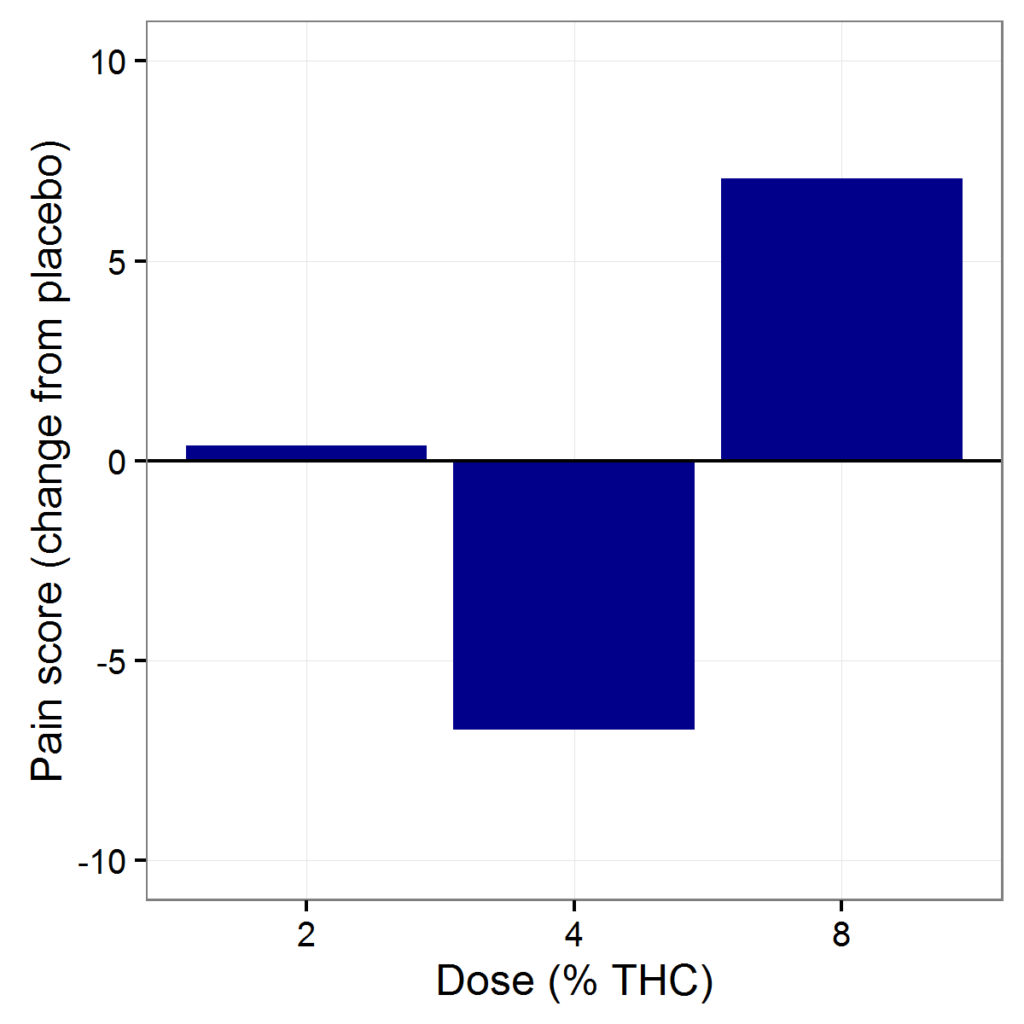 These scientists were smart to administer different THC dose levels. To fully characterize the effect of a drug, you need to administer it over a range of doses. Typically, you expect that the higher the dose, the greater the response, until at some point the response reaches a plateau. This is called the "Emax" dose-response.
However, there are rare cases where as the dose goes up, the response goes up, reaches a peak, then comes down. In some cases there is even an opposite response at high enough doses. This is called the "inverted U" dose-response. It appears that cannabis fits the inverted U dose-response pattern for some types of pain.
This study confirms that cannabis can both decrease and increase pain at different doses, but how is this possible? This study  does not help us understand the mechanism through which this happens. Luckily, a subsequent study shed light on this mystery.
Study #2: Cannabinoids increase pain signaling in the spinal cord
I explained above how interneurons in the spinal cord regulate pain signaling of the main pain-transmitting neurons. Without the inhibitory interneurons being active, pain signaling can get out of control and even minor stimulation can be painful. These inhibitory interneurons are important for the development of hyperalgesia.
The second study, performed in mice, showed that inhibitory interneurons express the cannabinoid CB1 receptor. When the CB1 receptor is activated, the interneurons stop releasing the inhibitory neurotransmitters GABA and glycine. Without these inhibitory signals present in the spinal cord, pain signaling to the brain intensifies.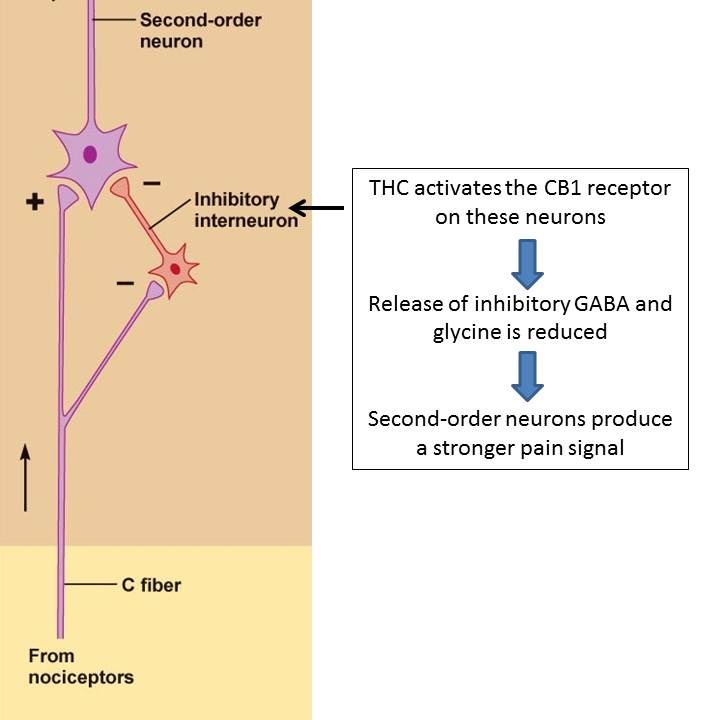 Boom. A clear mechanism showing how it is possible that cannabinoids can increase pain. But following this logic, it would mean that blocking the CB1 receptor will decrease the same types of pain. These scientists also conducted a clinical study to see if this would happen.
They used rimonabant, which is a CB1 receptor antagonist (an antagonist is a molecule that blocks activation of a receptor.) At one point, it was developed as an obesity drug, but was pulled from the market due to serious side effects.
Subjects were given either rimonobant or placebo prior to an intradermal electric shock. Although the acute pain from the shock was not changed, the hyperalgesia following the shock was significantly reduced.
These results confirm that a similar process occurs in humans as in in mice. Cannabinoids control the interneurons that regulate pain. Activating the CB1 receptor produces greater hyperalgesia and blocking the CB1 receptor reduces hyperalgesia.
Conclusions on cannabis exacerbating pain
The worsening of pain by cannabis is a real phenomenon. It was reported by multiple people and has been replicated in a laboratory setting.
One mechanism has been established and it occurs at the level of the spinal cord, where CB1 receptor activation decreases the effect of inhibitory interneurons on keeping pain in check. That's not to say that there aren't other possible mechanisms. For example, pain is modulated by your emotional state and the general dysphoria from a cannabis overdose may also increase pain levels.
It is important to realize that there are many different types of pain and cannabis can only exacerbate pain for certain types (otherwise this effect would be much more widely reported). CB1 receptor activation did not increase pain in animal models of inflammatory or neuropathic pain, which are some of the most common types of chronic pain. It is also dependent on the cannabis dose. Although there may be a dose level that causes pain relief, even a slightly higher dose may reverse the effect and worsen the pain.
If you are someone who has worsening pain with cannabis, it's possible that blocking the CB1 receptor may help improve your pain. However, there are no CB1 receptor blockers that are currently commercially available. It may also be useful to carefully titrate your dose with a strain that is low in THC and high in CBD.  
In a future article, I will describe a cannabinoid that maximizes pain-relief without exacerbating pain.
Last modified: April 23, 2017