The NIH claims that 19% of its funding of cannabinoid research is to study therapeutic properties of cannabinoids. That is already low, but digging into their data revealed that it is even worse than they say.
Advancement of public health depends on basic science and translational research, much of which is funded by federal government agencies. The research agenda for these agencies can determine what studies get funded and what questions remain unanswered.
The NIH says that they spent $21 million studying therapeutic properties of cannabinoids. However, this statement depends on a very loose interpretation of the words "therapeutic properties", as I show below.
What is the NIH?
The National Institutes of Health (NIH) is the primary US federal government agency responsible for biomedical and health-related research.
NIH's mission is to seek fundamental knowledge about the nature and behavior of living systems and the application of that knowledge to enhance health, lengthen life, and reduce illness and disability.
With a 2016 budget of $32 billion, NIH research towers over that of any other country (although keep in mind that the defense budget is still 28 times larger). About 80% of this money is given in competitive grants to external researchers and another 10% is used for its own intramural research programs.
The NIH is split into 27 Institutes and Centers. Each one focuses on a specific set of diseases. The institute names are mostly obvious. For example, the National Cancer Institute (NCI) studies cancer and the National Institute on Drug Abuse (NIDA) studies drug abuse.
Cannabinoid research funded by NIH
The NIH has a page explaining funding of cannabinoid research: NIH Research on Marijuana and Cannabinoids (side note: the NIH continues to use the term 'marijuana' even though 'cannabis' is the globally accepted scientific term. Here is a nice explanation as to why.)
So how much cannabis and cannabinoid research has the NIH funded recently? In fiscal year 2015, the NIH supported 281 projects totaling over $111 million on cannabinoid research. Testifying at a Senate Judiciary Committee hearing, an NIH representative stated the following:
Cannabinoid research is supported broadly across 17 NIH Institutes and Centers (ICs), with each IC supporting research specifically focused on the impact of cannabinoids on health conditions within their scientific mission.
While not untrue, a brief glance at the grant data shows that funding disproportionately goes to the two Institutes that study drug abuse and dependence: NIDA (National Institute on Drug Abuse) and NIAAA (National Institute on Alcohol Abuse and Alcoholism).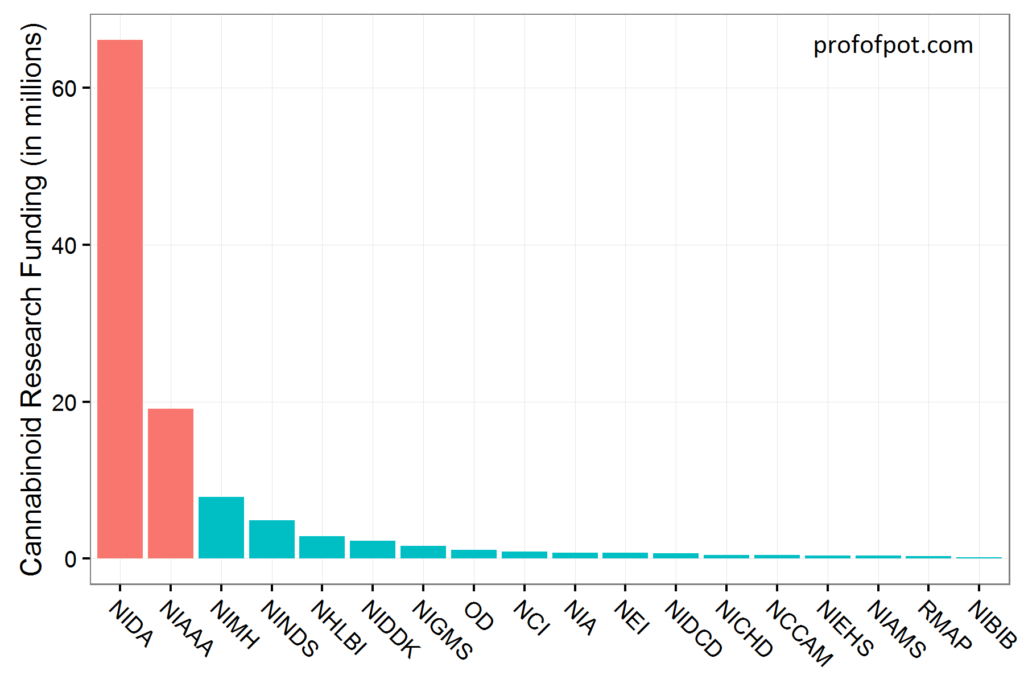 In total, NIDA and NIAAA obtained 77% of all 2015 cannabinoid research funding. Not surprisingly, the US federal government is focusing much more on researching negative effects of cannabis than medicinal properties.
This is consistent with a prior analysis of 2008-2014 funding that found that 79%  of NIH grant money related to cannabis went to abuse-related research.
Therapeutic cannabinoid research funded by NIH
In 2015, the NIH started reporting cannabinoid research funding in 3 different categories:
Cannabinoid Research: Reports total investment in any type of research related to cannabinoids.
Cannabidiol Research: A subset of Cannabinoid Research that focuses just on cannabidiol (CBD).
Therapeutic Cannabinoid Research: A subset of Cannabinoid Research that examines therapeutic properties of any type of cannabinoid.
Out of the total $111 million of cannabinoid research funding, the NIH says that 49 projects ($21 million) examined therapeutic properties of cannabinoids. This represents 19% of all cannabinoid funding.
Most people would assume that this category predominantly funds research into diseases which cannabis putatively helps: things like pain, cancer, seizures, neurodegenerative diseases, glaucoma, PTSD, anxiety, and insomnia. I did my own analysis to see where the money really goes.
I first looked at which NIH Institutes were funding this research. Surprisingly, NIDA and NIAAA (the two institutes studying drug abuse and dependence) still received 63% ($13.4 million) of all funding in the Therapeutic Cannabinoid Research category.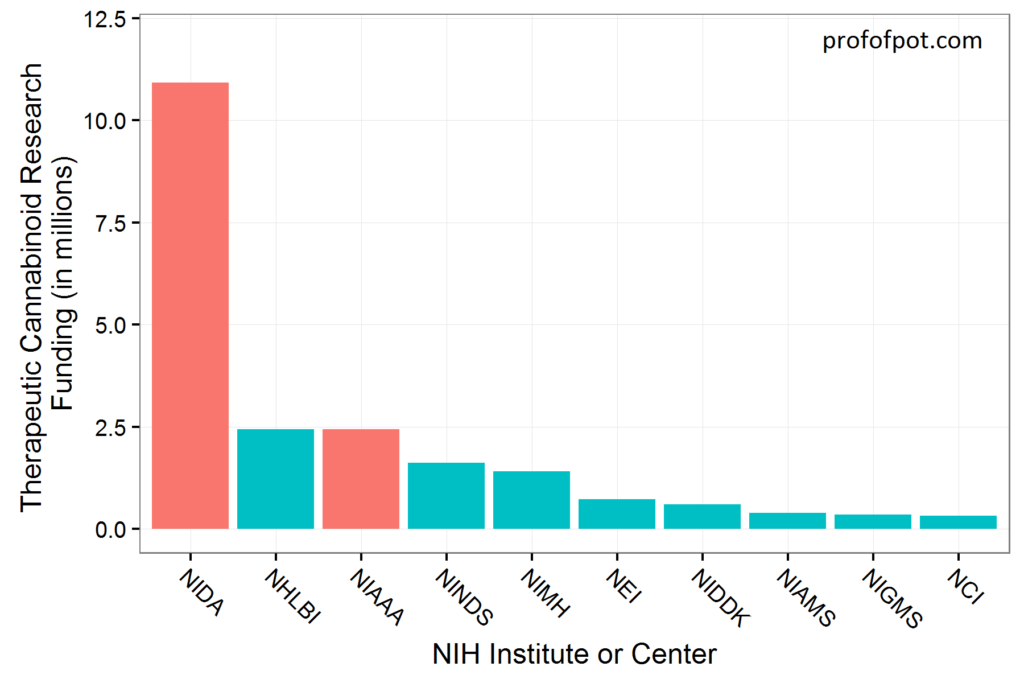 Next, I assessed each grant for which diseases were studied and placed them into a few major categories: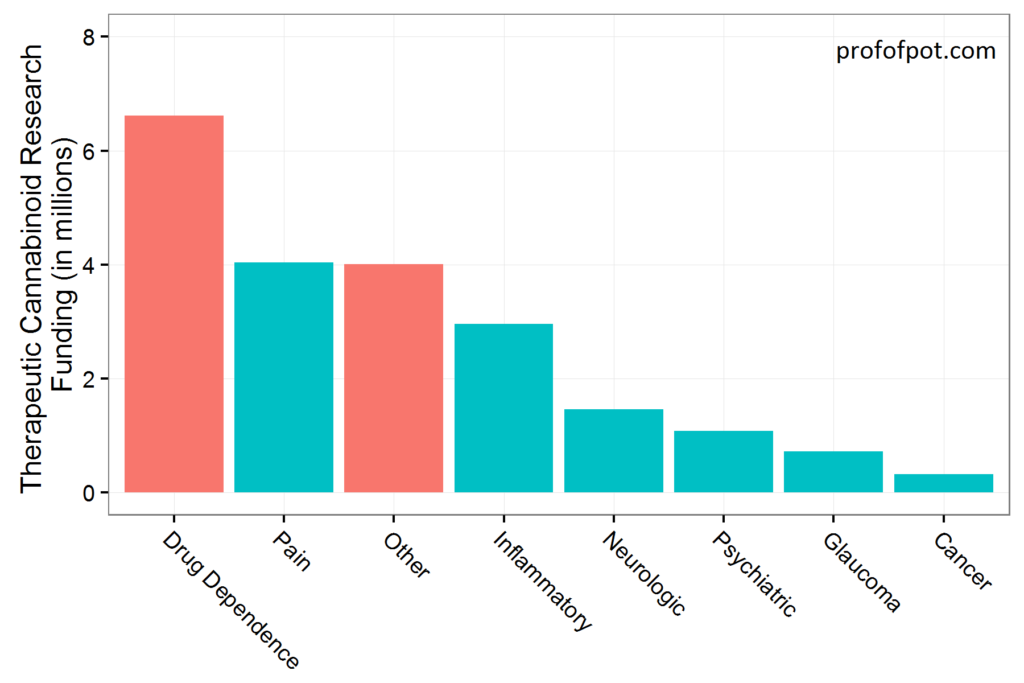 As you can see, even within the Therapeutic Cannabinoid Research category, the main focus is still the role of cannabinoids in drug dependence. Relatively little funding goes towards the diseases most associated with medical cannabis. In fact, only about 50% of this funding goes toward a specific disease that is not related to drug dependence.
Here are some examples of specific diseases or conditions being studied in each category:
Pain: Chronic pain, neuropathic pain, pain from sickle cell disease
Inflammatory: Atherosclerosis, inflammatory arthritis, immunosupression, hepatic fibrosis
Neurologic: Alzheimer's disease, chemotherapy-induced cognitive impairment, fragile X syndrome
Psychiatric: Schizophrenia, mood and anxiety disorders, depression, PTSD
Cancer: Colorectal cancer
The "Other" category represents funding that is not targeted towards a specific disease. It mostly goes towards contracts for the "federal marijuana farm" ($1.49 million) and synthetic production of cannabidiol ($0.74 million).
In reality, even the 50% of funding that goes towards these diseases does not accurately represent the investment into possible therapeutic uses of medical cannabis. There are two reasons for this:
Almost every grant has multiple Specific Aims. In many grants, the role of cannabinoids is only one Specific Aim of several. So only a fraction of the grant money goes towards cannabinoid research.
Some of these grants are to study a potential negative effect of cannabis. For example, assessing whether adolescent cannabis use may contribute to the development of schizophrenia.
Although difficult to quantify from the available data, we can say that less than $10 million was spent on any research which could reveal a therapeutic properties of cannabinoids in these diseases.
Are NIH claims of therapeutic cannabis funding misleading?
I have nothing but respect for the NIH and its researchers. There are many worthwhile cannabinoid research programs that are being funded by the NIH. I hope that they lead to new treatment options for patients across a variety of diseases.
I don't believe that the NIH is necessarily trying to mislead people on their funding of therapeutic cannabis studies. For one thing, research funding is not categorized manually by the NIH or grant applicants. According to the NIH site that reports categories of research spending, this process is automatic:
This new process…uses sophisticated text data mining (categorizing and clustering using words and multiword phrases) in conjunction with NIH-wide definitions used to match projects to categories.
Although this may improve consistency and reduce human bias, the NIH admits that this system may not categorize projects perfectly.
I do believe that the NIH statement that they fund $21 million in "therapeutic cannabinoid research" can easily be misunderstood. Most people would not assume that the largest category of this funding is drug dependence and that studies designed to show ill effects of cannabinoids are included. Very little of the funding goes toward what could be considered "medical cannabis" research and it takes a lot of digging to see this.
While some people may wish to call for an increase in funding for studies of medical cannabis, also remember that research funding within each Institute is decided by an independent panel of scientists. They are weighing studies of cannabinoids against other research programs that they may view as even more promising.
In my opinion, the real shame is the relatively low  prioritization of health research in the US federal budget. For the price of one stealth bomber, we could fund 28 Phase 3 clinical trials and have clear answers on the role that cannabis could play in medicine.
[Featured Image credit: Wikipedia]
Last modified: February 23, 2017